2 Days ErtaAle Volcano Tour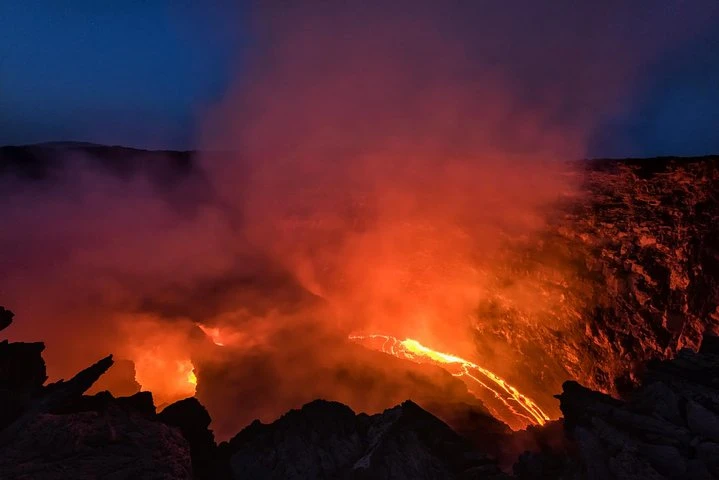 2 Days ErtaAle Volcano Tour
Ertale is what you will visit in this tour.
And the price to visit ertale volcan in the danakil Depression is $250/person
2 Days ErtaAle Volcano Tour
This 2 days Ertale volcano tour Itinerary is for travelers with limited time which will allow them to visit the lava lake and the salt Lake Afdera.
Day 1 : Mekelle – Ertale 
In the morning our driver will pick you from the airport and breakfast will be in Mekelle, then shortly After you will depart to Ertale via Ababla. The drive to Volcano lake is a good asphalt road via Erepti except a 49 km dirt road before the camp site Kisrawad. In Erepti Town you will stop for lunch and pick 4 security personnel as a protocol for security. At around 5:00 you will be in The camp site near Kisrawad. Once you are at the camp the 4 hour trekking will began to Ertal accompanied by 5 Security guys and a camel to carry your camping gear. Dinner will be served in the Rim ove the volcano lake and you can get as close as possible few meters from the lake under the guidance of you tour guide.
NOTE: Once we left Mekelle No Power is available. Plus: Camel Riding is available whilst trekking to Ertale,
Day 2 : Ertale – Afdera – Mekelle
After breakfast in camp camp , we drive to Lake Afdera Via Kisrawad for a swim in the plenty of hot springs and earn the largest and semi indasti of salt excavation in Africa Afdera. Then After lunch drive to mekelle. 
Danakil Depression 4 Days
Bale Mountains National park