Danakil Depression & Tigray Churches Tour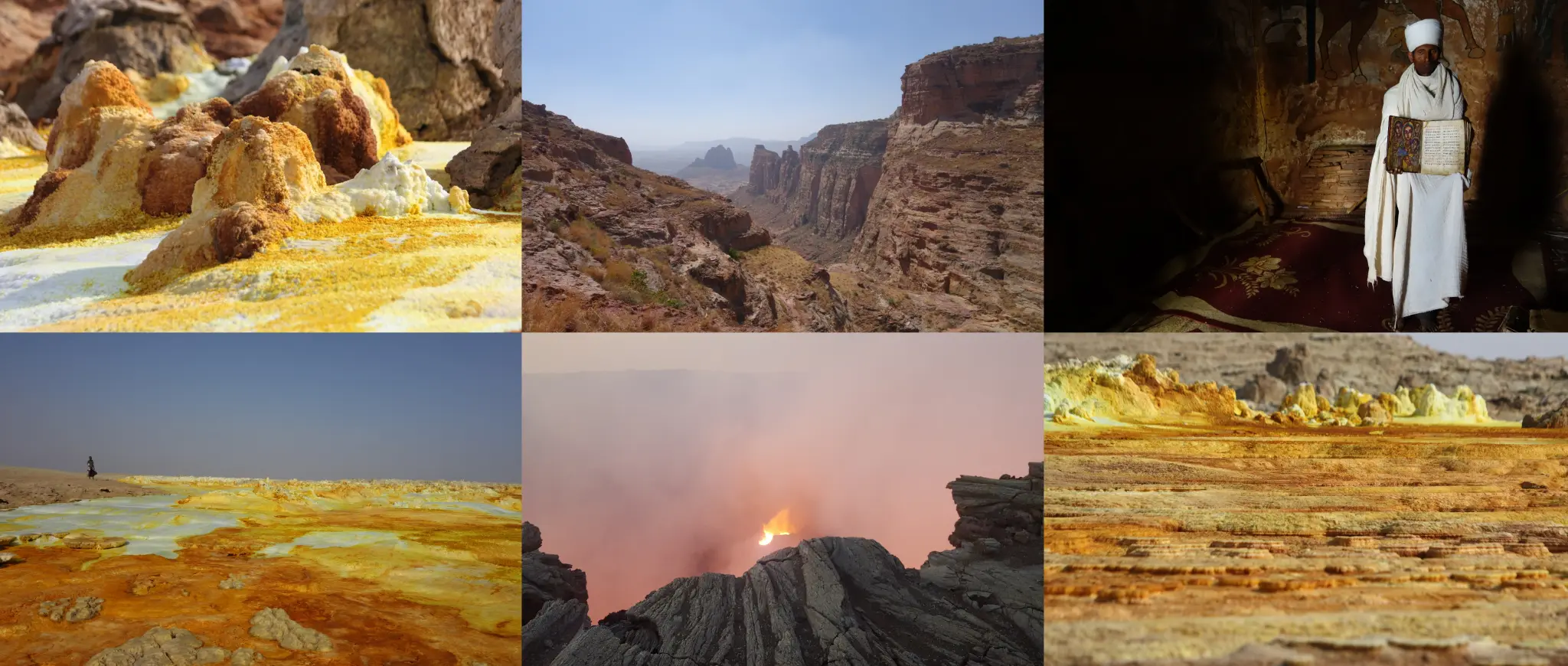 4 Days Danakil Depression & Tigray churches Tour
Tours From Mekele
Mekelle is a relatively young city, with its origins dating back to the 19th century. However, it has grown rapidly in recent years. The city is home to a number of important historical and cultural sites, including the Grand Palace of Emperor Yohannes IV, the Martyrs' Memorial Monument, and the Debre Berhan Selassie Church. Mekelle is also a major commercial center, and is home to a number of factories and businesses.
The city is served by Mekelle (Alula Aba nega) MQX Airport, which is located about 10 from the city center. Mekelle is also a major transportation hub, and is connected by road to other major cities and the triangle tourism in which it is a connecting city between Lalibela, Danakil Depression and the Tigray mountain Churches, the same case in this tour your trip will start and end in Mekele, but we can also organise further to with in Ethiopia from Here.
Danakil Depression Tour
The Danakil Depression is a geological depression in the Afar Region of Ethiopia. It is one of the hottest and lowest places on Earth, with an average elevation of 100 meters (330 ft) below sea level.
It is home to a variety of unique and interesting landscapes, including salt flats, lava fields, and sulfuric springs. The area is also home to a number of endemic plant and animal species, including the Afar camel, the Abyssinian ground hornbill, and the secretary bird.
Tigray Mountain Churches
The Tigray Mountain churches are a group of rock-hewn churches located in the Tigray region of Ethiopia. They are believed to have been built between the 5th and 15th centuries, and are some of the oldest and most important Christian sites in Ethiopia. They are are a UNESCO World Heritage Site, and are a popular tourist destination. They are a testament to the rich history and culture of Ethiopia
The churches are carved into the sides of cliffs and mountains, and are often reached by steep climbs. They are decorated with intricate paintings and carvings, and some of them contain important religious manuscripts.
The most famous Tigray Mountain churches Abune Yemata Guh and Korkor Mountains are located in the Gheralta cluster, which is about an hours from Mekele. Other clusters include the Atsbi, Tembien, and Wukro clusters.
Trust Factor
We are proud, for being one of the best at what we do and we 100% guarantee you will get the best out of your trip with us. But dont trust our words, just listen to what travelers say about their experience.
How to get to and the Itinerary
4 Days Danakil Depression & Tigray churches Tour
Day 1, Mekele – Ertale
At 10am Our Driver will pick you from your location and drive take you to Ertale base camp. After a relaxed slow driving at 5:00pm you will arrive at the base camp then @ 06:30 30-minute trekking will take you to Ertale. O/N camping
Day 2, Ertale – Dallol
Starting at 8:30am you will drive from base camp in Ertale & at 4:00pm you arrive in Hamedela then continue to lake Asale salt flats and enjoy birth taking sunset & a splendid camel caravans transporting salt from Lake Asale. O/N camping in Hamedela
Day 3, Dallol – Hawzen
In this day you will visit Dallol colorful mountain, Camel caravan, Lake Asale salt flats, traditional salt excavating methods, sulfuric acid ponds, swim in the Salt Lake. finally drive to Hawzen and at 04:30pm you will arrive in Hawzen. O/N in lodge
Day 4, Hawzen – Mekele
This Day you will drive from Mekele to Megab town and climb the famous Abune Yemata monastery church. In the Afternoon you climb the Mariam Korkor Monastery church and in Late afternoon drive back to Mekele at 05:30pm Will be in Mekele.
The Package Price is $749/Person including
Round trip domestic flights, Entrance fees, Security fees, world class cook and cooking stuff, camping gear, Latest land-cruisers, 3 person/land cruiser, fuel, driver, guide fees, non-limited amount of mineral water are included.
Package price excludes
alcoholic drinks.
Packing For The Trip
While the we will provide climbing gears like rops for the Tigray mountain churches when ever needeed, the site have a good hoteling and accommodation.. so 
The following are what you need to pack for the Danakil Depression – Torch Lights, Head lamps, Trekking shoes, Sandals, Trekking pants, Sunscreen, Trekking shorts and light clothes, We provide generator but we advise travelers to bring light power bank, If your trip is in scientific expedition lab gears
Bale Mountains National park