Danakil Depression 2 days Tour
This Danakil Depression 2 days tour takes you to some of the most unique and fascinating natural wonders in the world. The Camel caravans transporting salt, Lake Asale Salt flats, Dallol Colorful Mountains, and salt mountains.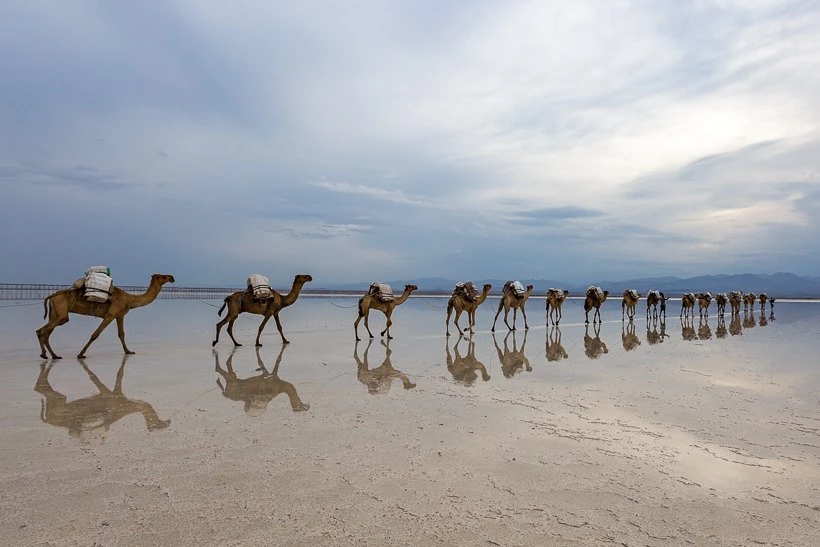 Danakil Depression 2 Days Trip
The Danakil depression is a geological formation located in the north part of Ethiopia known for its volcanic nature and otherworld looking formations.
In the 2 days you will be able to visit, dallol mountain and the salt flats mainly and things to do around the area. unless you cant afford a night and half a dat though we advise you do the 3 days tour.
The price for the Danakil depression 2 days Tour is $260/Person to join a group and $830 for a private tour for less 4 pax.
Day 1 Mekele – Dallol
We greet you upon arrival at the Alula Abanega airport in Mekele and after breakfast, 10 am we drive to Hamed Ela via BeraHale south of the salt Lake Karum ( Lake Asale salt flats ), after dropping the cook and his cooking stuff we will drive to Lake Karum for a beautiful sun set, on the way enjoy camel caravans going back from the salt excavation fields, the white desert surrounding the big lake is unique, then you drive back to Hamedela, after enjoying dinner, sleep in the Afar made bamboo beds. Note: In Hamedela which is a small military outpost inhabited by not more than 500 people , Electric is Available until 10pm.
Day 2 Dallol – Mekele
​This day you will have to wake up early morning as early as 6:00am, by 7:30am everyone must be ready for the excursion to Dallol, we will pick 4 Ethiopian army personnel. the other world looking Dallol is 40km north west of Hamedela camp, In Dallol Depression you will visit The colorful landscape of Mount Dallol created by the 1906 volcano eruption The salt canyons, sulfuric acid ponds some are as deep as 400m, The 2000 years old Traditional salt excavation methods north of lake Garum where more than 2500 camels and 1000 donkeys wait to be loaded salt bricks excavated by the Afaris and Tigrians, Black sulfuric acid ponds, Yellow sulfuric acid ponds, Iron mountains, The ruins of the potash company used by And at around lunch time drive back to Hamedela, Italians until 1952. Etc.. the army personnel, pick the·drop cook a and our stuff, drive to Makelle 130km via Berahale, Lunch in Berahale, then at around 3pm you will arrive in Mekelle we take you to hotel in Mekelle or Drive to the airport, but if you will continue to visit the Tigray rock hewn churches we will take you to Hawzen via Agula.
Danakil Depression 4 Days
Bale Mountains National park