Best Ethiopian Tours 12 Days / North Ethiopia
Day 1, Arriving in Addis Ababa
Arriving in Addis Ababa, you'll be met by your private tour guide and assisted to your hotel for the evening. O/N in hotel of your standard
Day 2, Lalibela
In the morning you will catch ET100 flight to Lalibela, your private tour guide by your side then in Lalibela you will be welcomed by GET Land cruiser head to the town, there after you check in you will directly go visit the first section of magnificent rock hewn churches of Lalibela. You basically have a full Day exploring the small town and its magnificent UNESCO world heritage sites. In the evening you guide will take you for a folkloric dinner in Lalibela. O/N in Hotel of your Standard.
Day 3, Lalibela – Mekele
In the morning you will drive north of Lalibela to visit the Last remaining Rock church known as Nakutalab which is located 1 hour north of Lalibela, via this route you will continue to Mekele a city 5 hours north of Lalibela. Once you arrive in Mekele you will Settle in your hotel and relax the evening and get a good night sleep to save energy because you will be on your way the Danakil Depression by the next day. O/N in a hotel of your choice.
Day 4, Mekele – Ertale
At 10am Our Driver will pick you from your location and drive you to Ertale base camp. After a relaxed slow driving at 5:00pm you will arrive at the base camp then @ 06:30 30-minute trekking will take you to Ertale. O/N camping in the rim of Ertale
Grand Ethiopia Tour 15 Days
Day 5, Ertale – Dallol
Starting at 8:30am you will drive from base camp in Ertale & at 4:00pm you arrive in Hamedela then continue to lake Asale salt flats and enjoy birth taking sunset & a splendid camel caravans transporting salt from Lake Asale. O/N camping in Hamedela
Day 6, Dallol – Hawzen
In this day you will visit Dallol colorful mountain, Camel caravan, Lake Asale salt flats, traditional salt excavating methods, sulfuric acid ponds, swim in the Salt Lake. finally drive back to Wukro and at 05:30pm arrive in Wukro. O/N in a Lodge in Wukro
Day 7, Tigray churches – Axum
In the early morning after breakfast, you will drive to Tigray Mountain churches to climb the magnificent mountains near Howzen. The Abune yemata Guh and the Korkor. After spending a full Day in Tigray Mountains, you will drive to Axum.
O/N in Hotel of your choice.
Day 8, Full day in Axum
This day you will have a private guided day tour in the ancient city of Axum and the legacy of a civilization once controlled the red sea, then drive 15km outside of the city to visit Yiha the temple of the god of the sun Almokah.
O/N in Hotel in Axum.
Day 9, Axum – Gondar
In the morning you will do a short flight of 15 minutes to Gondar city, from here you will drive north for one hour and arrive at the Semien mountains and you will do a guided trekking and watch the Galada Baboon, Walia Ibex, and the red fox.
O/N camping in Semien Mountains.
Day 10, Semien Mountains – Gondar
City Tour in Gondar O/N in hotel in Gondar.
Day 11, Gondar – Lake Tana
Visit the Lake Tana Monasteries then in the afternoon you will visit the Naile falls. O/N in Bahirdar in hotel.
O/N in Arbaminch Hotel
Day 12, Flight to Addis
Half a day tour in Addis Ababa and a folkloric music dinner in Yod Abbysinya for a farewell party. End of Tour.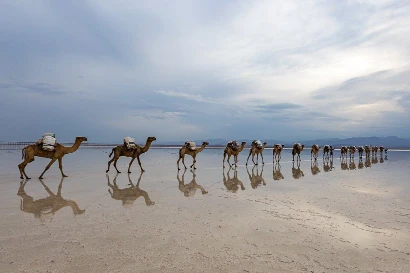 Plan your trip
Tell us about your plans and one of our specialists will plan a unique trip for you
VIDEO APPOINTMENT
Talking face to face with your tour expert can be helpful starting point for sharing thoughts and ideas as you begin to imagine your next trip. Make a skype appointment and discuss in person.