Surma Suri Tribes 7 Days Tour/
 Surma Suri tribes 7 Days Tour – The Suri, a proud community residing in the southwest region of Ethiopia, far removed from the influences of modern society. One of the main Surma / Suri customs is stick fighting sport known as Donga or Sagenai.
Surma Suri 7 days Tour and the Donga/Sagenai Sport
Donga is a traditional stick fighting ritual that is practiced by the Suri and Mursi tribes of the Omo Valley in Ethiopia. The Sports are held between villages, and the men use long, wooden sticks to strike each other. 
Donga is a sport and a way for the men to show their bravery, strength, and virility. It is also a way to settle rows between villages. The winner of the fight is seen as the most powerful and respected man in the village. it is a fascinating ritual that provides a glimpse into the traditional culture of the Suri and Mursi tribes. It is a reminder of the importance of strength and courage in these cultures.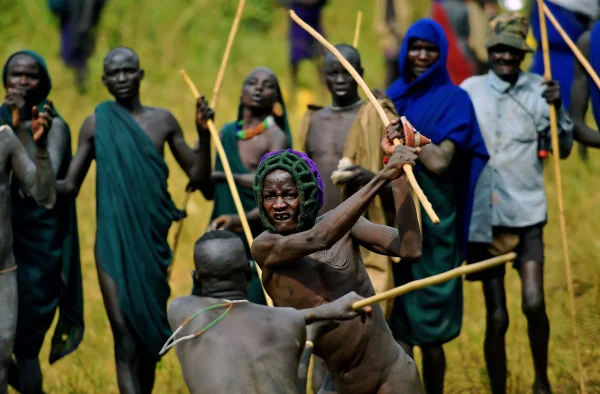 Surma Suri Tour Itinerary.
Surma Suri 7 Days Omo Valley Tour
Day 1 – Driving from Addis Ababa – Jimma through Wolkite on the way we will visit the less visited Gurage ethnic group  and beautiful scenery over view the Gibe valley and breathtaking landscape. Overnight in Jimma.  Surma Suri 7 Days Omo Valley Tour
Day 2 – Drive from Jimma – MizanTeferi passing through coffee plantations . Kafa, where coffee was found for the very first time and the name itself drive from its birth place Kafa.
Overnight in Mizan Teferi.
Day 3 – Drive from Mizan Teferi – Kibish
Morning drive to Kibish on the way visit the Bebeka coffee plantation, where they cultivate organic coffee trees , tea, spice as well as rubber trees .Short break for visit coffee farm from nursery to the coffee processing techniques.
Overnight in Kibish.
Day 4 – A full day visit to Surma Tribe in villages found with in 20 Km radius in Kibish. 
Overnight in Kibish.
Day 5 – Drive from Kibish – Bonga
Morning after breakfast drive to Bebeka via Magi on the way visit the Dizi tribe . The Dizi people are hereditarily very short people who have beehive – like houses , similar to the Dorze .
​
Day  6 – Drive from Bonga – Welliso
Returning back , we continue to Jimma via MizanTeferi . In Welliso you can take a refreshing time by your own : swimming , walking , shopping and feeling the city.
Day 7 – Visiting Wenchi creator lake and Drive back to Addis Ababa.
Contact Us
Habeshaoui@gmail.com
Call Us & whatsapp @
+251983802183
VIDEO APPOINTMENT
Talking face to face with your tour expert can be helpful starting point for sharing thoughts and ideas as you begin to imagine your next trip. Make a skype appointment and discuss in person.
Danakil Depression 4 Days
Bale Mountains National park